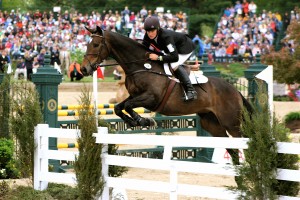 There has been a lot of research about visualization to assist you to achieve better results in your horse competition and equine performance goals, but there is more to it than that.
These tips will help you improve your own and therefore your horse's behaviour and performance. While there might be some reference to competitions in the tips below, these tips can relate to other activities (either mounted or unmounted) with your horse.
1. Do You Have A Clear Picture of Horse's Performance and Behaviour
Is there a clear image in your mind where your horse is performing well? This would be some time in the future either at an event, a special place or at home.
How does it feel? Have you made an emotional commitment and do you feel the emotional energy when you are in that picture?
2. Personal Passion
While the improvement in your horse's performance might be competition related, what is the reason?
If the reward is not the ribbon or the trophy, would you want this improvement or change in your horse's behaviour to achieve a deeper connection with your horse?
Do you feel the passion and fulfillment to achieve this goal, regardless of the extrinsic reward?
3. Horse Benefit
How will your horse benefit from this performance? Will they improve in their health, fitness and training?
Or are you pushing them towards sourness and unsoundness?
Do you really believe that if you improve your horse's performance, there will be a long-term benefit and a better life for them?
4. Investment
What do you need to invest for your horse to achieve this performance goal?
How much time, energy and money will it take to achieve this? Are you prepared for it?
Can you justify your investment to benefit your horse and your horse's future?
5. Time
How long will it take to achieve a result in improving your horse's performance?
Is this something you can break down into bite-sized chunks so that you can see a benefit in each training session?
Will there be enough progress in the short term to keep you focused on the long-term goal?
6. Personal Control
It is important that you have personal control over your horse's training.
Is this your own horse or is the owner of the horse happy for you to have the control over the horse's performance?
Is there anything that is out of control (agistment/ boarding stables) that will influence the horse's behaviour, which is out of your control?
Do you believe that you are able to improve your horse's performance or change their behaviour, and able to shape the outcomes?
7. Social Support
What do your friends or your partner say? Do they support you or sabotage you?
If there is negativity around you, are you a strong enough person to withhold this negativity and stay focused?
Do you have people around you that you can engage with, who stay positive and supportive?
8. Excuses and Distractions
Do you feel stretched with teaching your horse to improving their performance or changing their behaviour or do you feel overwhelmed?
Don't be distracted and make excuses why you cannot commit yourself to training your horse to improving their performance
Are you are really committed, and will not allow excuses and distractions to stop you? Will they make you stronger and more focused?
9. Resources or Resourcefulness
Do you believe that you do not have the resources to make this happen?
Or do you know that even if you do not have the resources at the moment, they can be found, bought, acquired, borrowed, created.
Are you resourceful and committed enough to find what you need to assist you to change your horse's behaviour or improve their performance?
10. Autonomy
Do you believe that with support, you are a good enough rider/ trainer to make this happen?
Do you believe that you (independently or with assistance) are able to develop the trust with your horse to change this behaviour?
Do you believe that you are the person who is in control of this decision?
Having the right mindset is the first and most important step to achieving your horse performance goals. The next step is to have an instructor who can also see your vision for your horse. Ideally they should have already experienced the same performance results with their horse or horses.