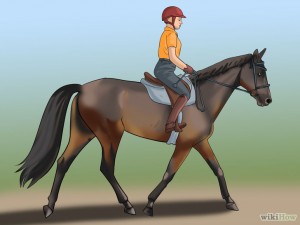 When you are riding in a lesson, do you make sure you shirt is tucked in before you start?
What about if you are coaching a lesson, do you make sure your riders have their shirt tucked in before you commence a lesson?
If not, why not?
If you as a coach choose to not tuck your shirt in or don't expect your students to tuck their shirts in, then think again.
Latest Fashions
Have a look at the world's best fashion houses for the latest trends this season. There are many garments where the shirts are long and flowing, or even midriff and sleeveless. The style of these high fashion clothes is continually changing and updated at least once each season.
Equestrian Fashions
While fashions change and evolve in the equestrian world, they remain fairly traditional. Riding is a sport, so the ability to move freely is a must and protection of the head, arms, hands, body, legs and feet is also a must. Long flowing garments, while they may be used in some costume classes are not traditional equestrian outfits as they can cause a horse to spook and have more likelihood of being caught up in the event of a fall.
These traditional fashions in the equestrian world are a must for
safety
protection
ability to move freely
Why Should I Tuck In My Shirt?
A lot of riders tuck their shirt in all the time. They have respect for their instructor and have seen other riders they respect with their shirts tucked.
Some riders complain that their butt is too big to have their shirt tucked in, so they leave it out.
Tucking in shirts is more than showing respect to the instructor. If your shirt is tucked in, the coach can see more easily if they are straight sitting on the horse and if they are in the deepest part of the saddle.
Your instructor can also see the amount of movement of the seat that is happening in the paces, movements and transitions between paces and within the pace.
If your coach can see your seat is moving in the saddle in such a way that it interferes with your horse's way of going, then they can give you some feed back with suggestions for appropriate corrections to the rider.
If you have a bit butt, it is even more important that the coach can make sure you are sitting correctly and making the work as comfortable as possible for your horse.
When you tuck your shirt in, your instructor can confirm that you are sitting in the deepest part of the saddle and not too far back or forward or collapsing to one side. Your coach will teach you to move with your horse, so the horse can carry you more comfortably.
For the sake of your horse, please tuck your shirt in!
After all, isn't that what we all want? For the horse to be comfortable and to do their job you in the most efficient way that gives us the maximum benefit?
Happy Riding 🙂