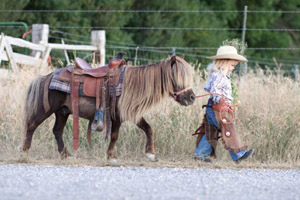 If you were one of the people who took our recent survey, THANK YOU!
In particular, if you were one of the people who asked for some tips for
teaching children then this series of tips for teaching children's horse
riding lessons has been written for you!
1. Keep Children Active And Moving
Children like active riding lessons with maximum participation. Once they
have learnt their A, B & C's (attitude, balance and control) they generally
love to canter and jump.
They like to keep moving, but rather than having the ride go in single file
behind one leader for the whole lesson try these suggestions
– change leaders
– go into and out of open order
– leading files in succession to perform a specific arena movement
– two rides in single file going in opposite direction
– including across the diagonal
– same size satellite circles returning to the same place in the ride
(see 'Arena Exercises')
2. Use A Broad Range Of Riding Activities
For children to maintain interest it is essential that their riding lessons be
well planned with a broad range of activities within each lesson.  This
could include
– learning games
– lots of arena figures
– changes of rein
– transitions between paces
– different types of gymnastic jumping exercises
(see 'Gymnastic Jumping Exercises')
3. Modify Activities
As children often lack the fine motor skills, attention span and strength
required to school horses and improve them at the same level as an adult.
Growth periods will alter a child's coordination and skills so the
requirements for adult lessons are best modified.
An example would be that rather than increasing the difficulty of jumping
by making the fences higher there should be a focus on more easily
assessed improvements that they can correct within the lesson such as
– number of steps/ strides between transitions
– number of strides between fences
– approaching and departing between witches hats
(see 'Jumping Accuracy')
4. Break Down Complex Skills
Children have short attention spans and are unable to process too much
information at once.  If they are learning a more complex task such as a
dressage test,
– introduce one new movement at a time
– keep instructions or questions short and simple
– allow time to learn this new movement
Once the individual movements are learnt, a few of them can be strung
together at the end of the lesson or the complete test after a series of
lessons.
5. Allow Children To Be Creative
Children enjoy being creative, so allow them to assist you in creating the
lesson
– change leaders and give the leaders responsibility for the speed of the
pace
– teach by stories and let them fill in the gaps, at the same time
controlling the excess talking!
(see 'Horse Riding Fantasy')
You can also allow leaders to
– choose which way to turn
– choose the next arena movement
– choose where the movement is done
Remember that the learning in every lesson is unique, children develop
at different rates and you will often have riders of different abilities
within the lesson.
Use the tips above to help you to create your riding lessons for children,
but remember that everything must always be safe
Happy Riding,
Glenys 🙂