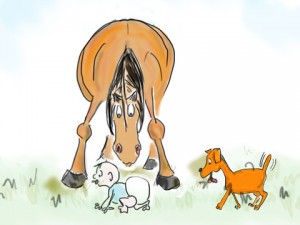 What was that?
Aasifa pricked up her pretty little Arab shaped ears.
Talisman pricked up his long thoroughbred ears and snorted.
Zamizin pricked his ears, snorted and held his tail up. It was important that he held his tail up high so everyone could see that it has been broken in a floating accident.  He had survived so he really must be the bravest horse in the herd.
Trendy trotted up to the front of the group, not because he thought that he was the bravest but because he wanted to make sure that if it was terribly scary then he wanted to be the fastest to get away. Just in case whatever it was had a particular hunger for fat leopard appaloosas.
"It must be a bunyip" said Aasifa who had told everyone about the mythical Australian creatures where she used to live. "There are bunyips everywhere in those trees, we had better get out of here". She shuddered and then checked that everyone was watching her, making sure she had lots of attention because she was highly strung.
"What colour are bunyips?" asked Star curious about the Australian mythical bush creatures.  He had lived at Fantasy Saddle Club for almost as long as Emperor and he had never seen any signs of bunyips.
There was movement over in the long grass under the shade of the trees and Aasifa galloped to the top of the hill. She was a little fast so then she had to wait for the others to arrive before she shuddered again because there was only so much shuddering a girl can do.
Trendy followed closely behind to start with but then he couldn't keep up and had to slow down to a trot before he got to the top of the hill, remembering to prick his ears and nicker to Aasifa when he got close. He knew that if her gave her lots of attention then she would smuggle some extra feed to him.
Keen to show off his broken tail,Zamizin held it high and proud, cantering stiff legged while zig-zagging his way up the top of the hill. He had to waste a bit of time so Trendy arrived first, because Trendy was very attached to Aasifa and liked to kick Zamizin if he came too close to her.
Not to be upstaged, Talisman took a short-cut across a fallen log and was first to the top of the hill, reminding every-one that he used to be an eventer but forgetting to mention that he lost his nerve when the jumps got too big. The only trouble is that he didn't stop and continued on down the hill the other side and then had to make a big circle around to the top again to maintain his image as an Olympic three-day eventer.
"Bunyips must be very small" thought Ted still peering into the grass, "and why is there a cleaning cloth in under the trees?" He was interested in galloping up the top of the hill with the others but was also interested preserving his energy so trotted up instead to join the others.
None of the horses had noticed that Emperor had been the first to hear the disturbance. He had merely opened his eyes from his sleep for a moment and then smiled. He knew they would have fun with this one.
As they all made their way to the top of the hill, Emperor walked up towards them. He was curious about their current conversation. Then winking to a shadow behind him he said, "That was fun Marmalade! Let's do it again soon!".
—oooOOOooo—
Up at the barn, Cathy and Becky were cleaning some tack. "Mm that is interesting, the ginger kitten is missing. He usually loves chasing the cleaning cloths and playing with them."
"Ah! There you are Marmalade"