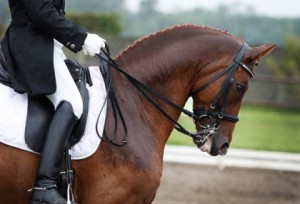 Have you ever returned from a competition late at night, with two horses to unload,
five horses to rug/blanket and feed with three tired, cranky young children in the car?
I have!
As much as I know about the theory of bringing the horses into an enclosed area and
tying them up while their rug is put on, we all tend to take short cuts when we are in
a hurry.  Especially with horses that we know and trust!
On one of these occasions, I fed the horses and while they were eating I put the rugs
on.  The last one was a young stallion.  Just as I had the rug half on, one of the children
woke up and started crying. The stallion was unsettled with the strange noise, and he
galloped off.
Luckily I had done up the back leg straps first, so after a quick buck and kick out, the
rug lay in a crumpled heap on the ground.
Imagine if I had done up the chest strap first!  He would have galloped off and the rug
would have slipped around his neck leaving the bulk of the rug for him to trip over and
stumble on.  If he didn't go through a fence, he certainly would have torn the rug to
shreds before I could rescue him
—oooOOOooo—
Many years ago, I worked in racing stables.  It was common for the stable hands to
ride the horses from the stables to the track with the front of the rugs/ sheets done up
and the leg straps undone.
Every time I saw this I shuddered.
I lost count of the number of times I saw horses trying to gallop back to the stables
after they had dislodged their rider, summersaulting on the bitumen road, slipping
and scrambling to their feet as they stood on and stumbled over their rugs that were
still done up around their necks. There were sparks flying (it was often before dawn)
and on one occasion a car hit a horse, who received two broken legs and had to be
put down.
—oooOOOooo—
I know many people have some great reasons why rugs should be done up with the
chest strap first and if the horse is tied up and in an enclosed area these reasons could
be valid.
However my experience has shown me that doing the leg straps up first (and undoing
them last) is best practice.
Happy Riding,
Glenys 🙂