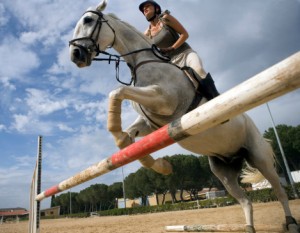 Remember last January, when you set your goals to achieve for the year?
How many have you achieved? Competition results?  Riding?  Studying? Training?  Teaching? Or simply learning more about horses and other horse related projects?
Are there any that you need just a little 'push' to complete?
Maybe a horse training book that you had planned to read or a horse course that you were going to enrol in? If you can complete them in the next few weeks to add to your list of achievements for this year, how are you going to feel?
Are there other goals that are just not going to happen this year?
The number of competitions are restricted, or it could be because of an injury or other physical limitations?  If these are goals that you truly desire, then move the timeline to achieve them some time next year.
Are there any goals that you have completely crossed off your list?
You may have had a desire to breed horses, but have since decided that you would rather spend your time and energy on buying and training older horses.  Cross it off your list so you can focus on what you want to do.
As you come to the end of the year, look over your achievements and make a list of them to keep in an easily accessible place.  This list can have the magical power of giving you a fantastic boost to your energy!
The main thing is to reward yourself for the goals you have accomplished, you deserve it!
Remember to live your passion,
Glenys  🙂