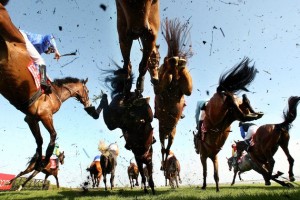 Do you have a good excuse why you didn't win the last competition, or why you haven't ridden lately?
The thing is that everyone HAS a good excuse!
No-one wins all the time. But those who win more often and progress to higher levels don't dwell on their excuses! They work out what went wrong, how they can improve and get on with fixing things.
We are all born into different situations, some brought up in families where they could choose what horse they rode, had the best instructors and started competing in big competitions at an early age.
Then there are others who had to ride their bike for miles just to get to the nearest riding school. They would work all weekend and be rewarded with a short ride if it suited.
It doesn't matter where you started, it matters where you are going
If you want to improve, be persistent about improving.
Set yourself up with a reflection diary. Within the diary, have a long term plan that includes
Five-year plan
One-year plan
30-day plan
Weekly plan
Then each day after you ride, do a bit of self reflection
What was your plan at the beginning of the session?
Did you stick to the plan? If not, why not?
What went well?
What can be improved on?
How will you improve it?
By persistently keeping this diary you will find that you won't dwell on excuses, you will focus on improvement!