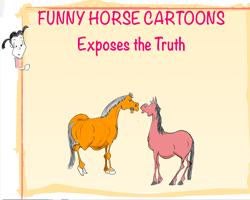 When you mix with people who are from outside the horse industry, do you feel like they are talking another language?
You know that you are highly motivated and serious about horses, but now you can have a bit of a laugh about yourself and pick up on the views of 'outsiders'.
If you are looking for a top quality horse read, check out this hilarious new book from Funny Horse Cartoons and download your free copy now!
Funny Horse Cartoons
Download Your FREE Copy Now!
Pick Up Your FREE Copy Of Funny Horse Cartoons
Exposes the Truth!