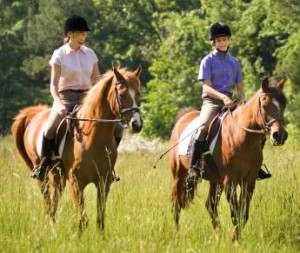 I have been asked if it is better to have agistment/livery/boarding or to give lessons. In most cases, my answer is 'What do your customers want?'
The majority of horse businesses are small businesses, not large franchises or multi-national companies with a rigid 'one size fits all' policy. This gives the owners the flexibility to continually meet the needs of the customer.
In an environment where a horse business can offer customers both lessons and a place to keep their horse, there are so many additional services and streams of income that their customers may require. Simply ask your existing customers what else they would like to see in your business.
As long as each idea is financially viable and doesn't impact negatively on another part of your business then why give your customers what they want? If you personally do not have the skills to offer the service, it may be financially viable to employ someone or contract to someone who can.
—oooOOOooo—
But don't just look inside the horse environment. Other types of horse business income can come from outside the horse industry. As long as it doesn't detract from the horse environment you are creating, these extra incomes can compliment your horse business and add to both your gross and net income.
Here are three different ideas that are totally outside the normal scope of a horse business that offer another stream of income that compliments the horse business.
For the first one, a sign company approached us a few years ago. They wanted to put a sign in one of our paddocks on a main road. We could have told them that we were a horse business and only wanted to focus on that.
Instead we considered the pros (continual income), and the cons (no horses in that paddock on the day they changed the sign, which was a couple of times a year). Now we have multiple signs, which do not detract from the main business advertising from the main road with a continual regular income.
The signs do not interfere with the horses and they provide some extra shade for them.
I know of a trail riding business who was approached by an All Terrain Vehicle (ATV) business. They wanted to use the horse trails to take out their customers on quad bikes into the real Australian bush.
If used incorrectly, these quad bikes can terrorize horses. The riders can be inconsiderate, they can take over the trails leaving the horses and their riders off to the side of the trail and picking their way through rough bush land. They can turn clear water streams where horses usually have a refreshing drink into mud baths
The trail horse businesses' initial reaction was to say no. However with an alternate entry point, safety procedures, top up insurance and scheduled ride/ quad bike times thisnow works quite well and gives the trail ride business an extra stream of income.
—oooOOOooo—
Another horse business I know uses their property for weddings. They have a lovely garden and some nice facilities but it was never set up as anything but a horse business.
A wedding photographer was at the business picking up his daughter from her riding lesson and noticed the care and attention the owners had put into the gardens. He then told a marriage celebrant about it and they approached the owner about hiring the property for weddings.
The owners turned one of the paddocks into a car park, made another couple of minor adjustments and the extra income from the weddings paid for these changes within weeks.
At the same time, they had more people coming to their stables and quite a number of these people came back and booked in for lessons. If they hadn't opened up their horse business to the weddings these students and potential horse riding students would never have known their horse business existed.
—oooOOOooo—
The lesson here is don't be too strict on what you want to provide to your customers. Open your ideas up and be flexible. However make sure that each time you make a change to offer and extra service or product that this extra business is worth the hassle and is financially viable.
Remember, the whole idea of business is to make a profit.