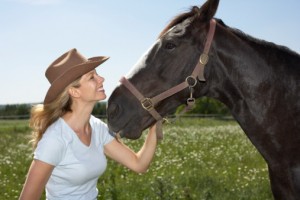 In a place where I used to work, one of the horses (Sunshine) was injured.  After months of treatment and rehabilitation it became painfully obvious that Sunshine would never recover properly.
Tom (the owner of the business) decided that the best thing would be to have Sunshine put down, but Bec (the girl who looked after the horse through his ordeal) disagreed.
'But he is such a kind horse, I will take him and look after him'
'He will cost you a fortune and you will never be able to ride him' said Tom
'That is ok, I just want to let him live his life in peace'
After much begging and pleading, Tom gave Sunshine to Bec and that could have been the end to this story.
However, a couple of years later I caught up with Bec . . .
"I will never forgive Tom for giving me Sunshine" she said.
"He has cost me a fortune, extra treatment, corrective shoeing, feed and the time I put in just to care for him . . .  I would love to have a horse to ride, but I can't afford two horses . . . and now I have grown far too attached to Sunshine and would never put him down . . .  but if only Tom would not given him to me . . . "
Bec made an emotional decision whereas Tom made a business decision.
It is an interesting question to ask yourself. What are my highest priorities? What type of decision would I make in this situation?
Whatever decision you make, be happy with it. There is no right or wrong answer.
Happy Riding,
Glenys  🙂