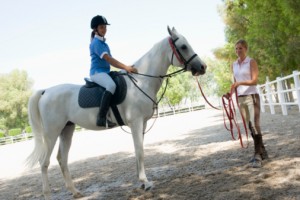 If you are an experienced horse riding instructor and you have been waiting to 'Beta' test the new course then please keep reading  . . .
When people use visualization techniques, I encourage them to fantasize about their huge competition goals and what they can accomplish in their equine businesses.
However sometimes I still hear negative rather than positive wishing  . . .
–  'I wish I had more money to spend on a new saddle'
–  'I wish I didn't have to work so far away, I never get time to ride'
–  'I wish I had an indoor arena to ride in'
Don't wish, do something about it!
The main thing is to work with what is available now. Then if your current commitments are restricting you from achieving your goals, find another way.
If you really have your priorities right and are focused on your long-term goals then you know that obstacles are either not relevant or only temporary
Setting long terms goals is not just about achieving them, remember to make sure you enjoy yourself along the way 🙂
Now . . . for those experienced riding instructors . . . as promised, I am letting you know that the 'Specialized Horse-riding Instructor' course has been completed and is available for enrolment.
This course is for experienced instructors who either have;
–       previous instructors qualifications (At least 'Certificate 3 in Sport Coaching' with equestrian electives or equivalent)
–       at least one year or equivalent full-time experience (1,000 + hours)
https://www.OnlineHorseCollege.com/specialised-horseriding-instructor
If this is your second, third or fourth enrolment with us, then please contact me directly for a further discount. Also, if you are a current student and would like to take advantage of this discount, then please contact me.
Remember you will have access to all course materials and gain your FULL QUALIFICATION when you enroll through this link.  (You may just find the odd link may not work the first time, or find the odd typo i
n the workbooks and other material. Then simply let us know so we can fix it)
Do something you are passionate about every day,
Glenys  🙂