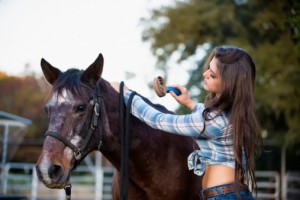 I hear from a lot of people who would love a career with horses.
Some people look for a sponsor to magically produce wonderful horses for them to ride and to give them a high paying salary as well. However they haven't yet proven themselves and they have nothing to offer the sponsor.
Then there are others who would love to walk in and manage an existing horse business, such as a saddlery or feed store. The only problem is that they have no management experience or no experience in that type of horse business.
Careers with horses are like training a horse. We don't ask them for high School movements when they are first broken in. We start with the basics and build in the training step by step. This systematic training can produce some brilliant results at a very high level, although it takes time and patience.
I love that people are ambitious with their horse industry careers and there is absolutely no reason why you should not aim high.
However when you are planning your career with horses, first think of your long-term plan. Then start with the basics and build on them step by step towards your ideal career with horses or your equine business.
Dream big and take action!