Recently I was talking to an instructor friend of mine about a particular student, the type that others may call 'difficult'.
"I love this student!" he said.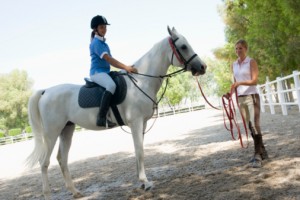 My teaching skills improve every time I give them a riding lesson.
He then went on to explain that he used his coaching and communication skills much more than with other students, and continually thought about a progressive pathway while clearly communicating what was required.
Then if they student didn't give the anticipated response, he said that he enjoyed combining his patience with 'thinking outside the square' of his normal coaching skills and coming up with inventive new ideas about communicating his message.
How do you react when you have problems with a difficult student or a difficult horse?
Happy Riding,

Glenys  🙂